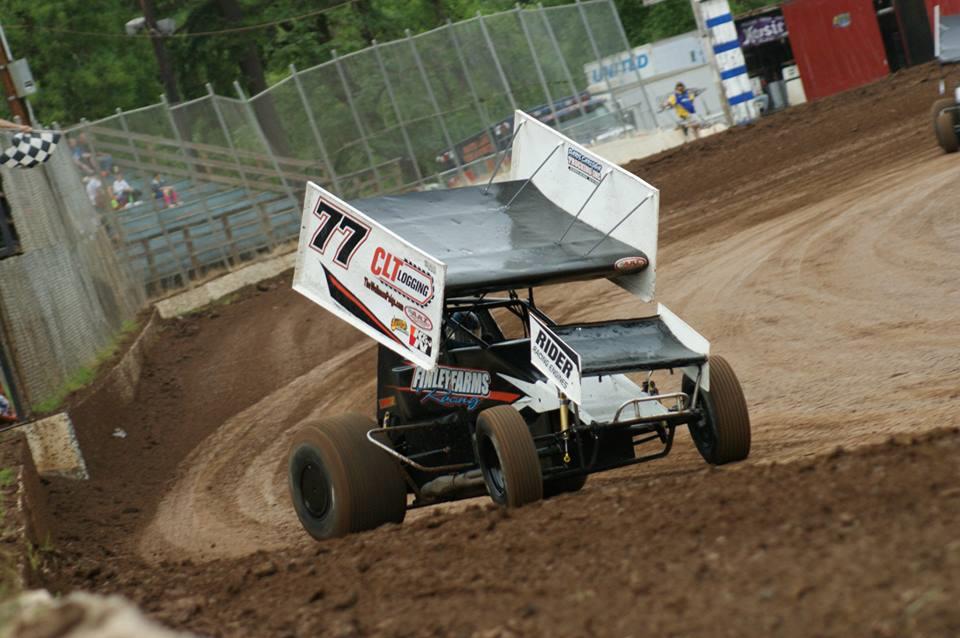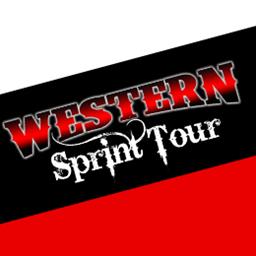 6/26/2015
Western Sprint Tour
---
Kyle Hirst Looks To Collect Another Speedweek Northwest Crown
Kyle Hirst Looks To Collect Another Speedweek Northwest Crown
By Ben Deatherage
(Photo Courtesy of Dirt Monkey Productions)
One of the favorites to not only win a feature during Speedweek Northwest but also the title is Kyle Hirst. Originally from Sacramento, California, but currently residing in Chico, the two-time and defending King of the West Series champion was very dominate last year winning three of the six races including the Speedweek crown. He will once again pilot the Scott and Jason Finley owned Finley Farms/CLT Logging/Rider Racing Engines #77 Maxim.
2015 has treated Hirst pretty well as he won Australia's most prestigious event, the Grand Annual Premier Classic for car owner Luch Monte, and won the first race of the King of the West Series on April 4th in the Kyle Main entry. He also spent some time on the road for Roth Motorsports with the World of Outlaws Series.
"It's been a good year," stated Hirst, "I've been bouncing around a few different teams but we've been consistently fast wherever we show up."
Hirst has ventured in the Pacific Northwest already this season. He participated in the non-sanctioned Marvin Smith Memorial Grove Classic at Cottage Grove Speedway in late May. His best result was a second place finish on the first night while night would end with him in fourth.
"Speedweek is always a fun time for me," he would continue, "I love driving for the Finley's and it's something I look forward to every year. I really have to thank Scott and (Jason Finley) for the opportunity and my crew guys Cory (Guy) and Michael (Helwig) because without them I wouldn't be able to do this."
The Western Sprint Tour sanctioned Speedweek Northwest begins at Yreka, California's Siskiyou Motor Speedway on Sunday June 28th and will conclude with the $5000.00 to win finale at Cottage Grove Speedway on Saturday July 4th. The best 360 Sprint drivers in the Western United States will race six events in seven nights at some of the best tracks in the country.
In the seventeen years Speedweek Northwest there have been ten different champions. Steve Kent and Roger Crockett are tied with four apiece while Brent Kaeding has two. Seven drivers have won the entire kit and caboodle just once which is a very impressive list of winners. That list includes Brad Furr, Jesse Hockett, Bud Kaeding, Kyle Larson, Shane Stewart, Mitch Olson, and in 2014 Kyle Hirst.
The Western Sprint Tour is the Pacific Northwest region's most premier touring 360 Sprint car series. Visiting some of the nation's best facilities it is a series that offers some of the best racing you can find anywhere around. For the latest news and information log on to sprints.nwextremeseries.com. Also check out the WST Facebook page and be sure to "Like" it.
Additional Information:
2015 Western Sprint Tour Schedule
April 24th Cottage Grove Speedway Cottage Grove, OR Trey Starks
April 25th Cottage Grove Speedway Cottage Grove, OR Rained Out
May 23rd Southern Oregon Speedway White City, OR Roger Crockett
May 24th Cottage Grove Speedway Cottage Grove, OR Roger Crockett
June 28th Siskiyou Motor Speedway Yreka, CA (Speedweek Northwest)
June 29th Southern Oregon Speedway White City, OR (Speedweek Northwest)
June 30th Coos Bay Speedway Coos Bay, OR (Speedweek Northwest)
July 1st Travel Day
July 2nd Willamette Speedway Lebanon, OR (Speedweek Northwest)
July 3rd Cottage Grove Speedway Cottage Grove, OR (Speedweek Northwest)
July 4th Cottage Grove Speedway Cottage Grove, OR (Speedweek Northwest)
August 14th Siskiyou Motor Speedway Yreka, CA
August 15th Southern Oregon Speedway White City, OR
September 25th State Fair Raceway Yakima, WA
September 26th State Fair Raceway Yakima, WA
Past Speedweek Northwest Champions:
2013- Roger Crockett
2012- Mitch Olson
2011- Kyle Larson
2010- Roger Crockett
2009- Jesse Hockett
2008- Roger Crockett
2007- Shane Stewart
2006- Steve Kent
2005- Brent Kaeding
2004- Brent Kaeding
2003- Roger Crockett
2002- Steve Kent
2001- Steve Kent
2000- Steve Kent
1999- Brad Furr
1998- Bud Kaeding
---
Submitted By: Ben Deatherage
Back to News