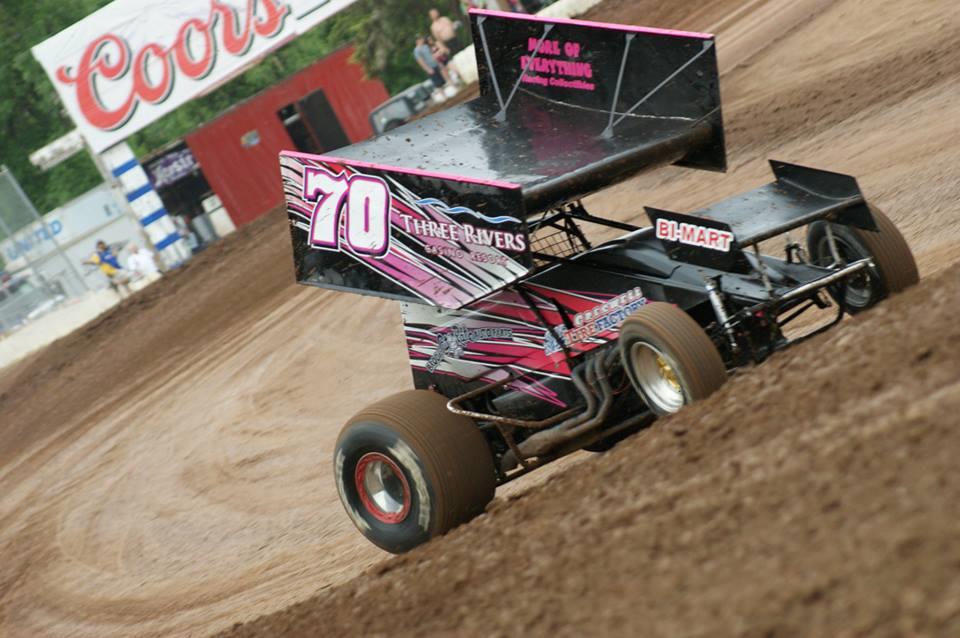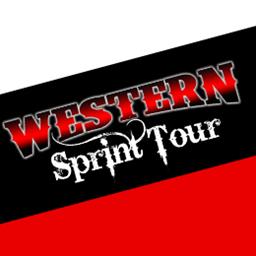 6/27/2015
Western Sprint Tour
---
Raquel Ivie To Make Entire Speedweek Northwest For First Time In Her Career
Raquel Ivie To Make Entire Speedweek Northwest For First Time In Her Career
By Ben Deatherage
(Photo Courtesy of Dirt Monkey Productions)
One young lady that is excited to participate in here first ever Speedweek Northwest is Eugene's Raquel Ivie. The former CGS Limited Sprint, now know as the Clark Printing Extreme Sprints, champion is currently ranked eight in 360 points and is fourth among the Extreme Sprints. Her best finish was a second in last Saturday's Extreme Sprint feature after leading for much of the race.
"The season started out kind of rocky getting used to this new car," said Ivie, "once we figured it out and got a good base setup in it we were able to put up some good finishes to build my confidence."
Ivie is no stranger to the Western Sprint Tour as she has raced with the series twice in 2015. Her best series result was a twelfth at Cottage Grove Speedway on April 24th. The Bi-Mart/Three Rivers Casino & Resort/Brook's Cut Rate Auto Parts/BC Motorsports/I-5 Tire Factory of Creswell/Hooker Harness/Cascade Farm & Outdoor/Puddle Jumper Towing/Chameleon Painting #70 XXX will be making some first ever trips on some of the stops during this year's Speedweek.
"This is a really important deal that I'm going to be able to do this whole deal," she would continue to say, "I'm aiming to make every main event and get at least top fifteen or top ten each night. I'm really going to go for it."
The Western Sprint Tour sanctioned Speedweek Northwest begins at Yreka, California's Siskiyou Motor Speedway on Sunday June 28th and will conclude with the $5000.00 to win finale at Cottage Grove Speedway on Saturday July 4th. The best 360 Sprint drivers in the Western United States will race six events in seven nights at some of the best tracks in the country.
In the seventeen years Speedweek Northwest there have been ten different champions. Steve Kent and Roger Crockett are tied with four apiece while Brent Kaeding has two. Seven drivers have won the entire kit and caboodle just once which is a very impressive list of winners. That list includes Brad Furr, Jesse Hockett, Bud Kaeding, Kyle Larson, Shane Stewart, Mitch Olson, and in 2014 Kyle Hirst.
The Western Sprint Tour is the Pacific Northwest region's most premier touring 360 Sprint car series. Visiting some of the nation's best facilities it is a series that offers some of the best racing you can find anywhere around. For the latest news and information log on to sprints.nwextremeseries.com. Also check out the WST Facebook page and be sure to "Like" it.
Additional Information:
2015 Western Sprint Tour Schedule
April 24th Cottage Grove Speedway Cottage Grove, OR Trey Starks
April 25th Cottage Grove Speedway Cottage Grove, OR Rained Out
May 23rd Southern Oregon Speedway White City, OR Roger Crockett
May 24th Cottage Grove Speedway Cottage Grove, OR Roger Crockett
June 28th Siskiyou Motor Speedway Yreka, CA (Speedweek Northwest)
June 29th Southern Oregon Speedway White City, OR (Speedweek Northwest)
June 30th Coos Bay Speedway Coos Bay, OR (Speedweek Northwest)
July 1st Travel Day
July 2nd Willamette Speedway Lebanon, OR (Speedweek Northwest)
July 3rd Cottage Grove Speedway Cottage Grove, OR (Speedweek Northwest)
July 4th Cottage Grove Speedway Cottage Grove, OR (Speedweek Northwest)
August 14th Siskiyou Motor Speedway Yreka, CA
August 15th Southern Oregon Speedway White City, OR
September 25th State Fair Raceway Yakima, WA
September 26th State Fair Raceway Yakima, WA
Past Speedweek Northwest Champions:
2013- Roger Crockett
2012- Mitch Olson
2011- Kyle Larson
2010- Roger Crockett
2009- Jesse Hockett
2008- Roger Crockett
2007- Shane Stewart
2006- Steve Kent
2005- Brent Kaeding
2004- Brent Kaeding
2003- Roger Crockett
2002- Steve Kent
2001- Steve Kent
2000- Steve Kent
1999- Brad Furr
1998- Bud Kaeding
---
Submitted By: Ben Deatherage
Back to News