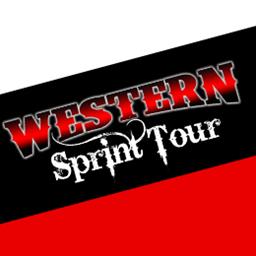 6/27/2015
Western Sprint Tour
---
Nunes To Run Select Speedweek Northwest Events But Will Still Be A Threat
Nunes To Run Select Speedweek Northwest Events But Will Still Be A Threat
By Ben Deatherage
(Photo Courtesy of Byron Rayburn)
Even though he will not make the entire Speedweek Northwest it should still be fun to watch Seth Nunes shred the clay. The Medford motorist is having his best year yet after capturing his first career victory at Southern Oregon Speedway on April 18th. He also has posted four top five finishes over the course of 2015. Although he did experience a major crash on the final night of Cottage Grove Speedway's Marvin Smith Memorial Grove Classic, the team seems to be back in the correct direction.
"We have some good momentum now," commented Nunes, "first time we brought this new car out we ran fourth (at CGS on June 13th). We're hoping for some good runs and put some solid laps together."
The pilot of the Napa Auto Parts/Lucas Oil Products/Central Point Electric/Rodgers Racing Engines #5N Zeitler will only be in attendance for the Monday June 29th event at Southern Oregon and the two final nights at Cottage Grove. In Western Sprint Tour competition Nunes has a second at Cottage Grove on April 24th and a seventh at Southern Oregon on May 23rd.
"I'm hoping to get top fives every night," he continued, "it'll be very nice to get some good consistent runs."
The Western Sprint Tour sanctioned Speedweek Northwest begins at Yreka, California's Siskiyou Motor Speedway on Sunday June 28th and will conclude with the $5000.00 to win finale at Cottage Grove Speedway on Saturday July 4th. The best 360 Sprint drivers in the Western United States will race six events in seven nights at some of the best tracks in the country.
In the seventeen years Speedweek Northwest there have been ten different champions. Steve Kent and Roger Crockett are tied with four apiece while Brent Kaeding has two. Seven drivers have won the entire kit and caboodle just once which is a very impressive list of winners. That list includes Brad Furr, Jesse Hockett, Bud Kaeding, Kyle Larson, Shane Stewart, Mitch Olson, and in 2014 Kyle Hirst.
The Western Sprint Tour is the Pacific Northwest region's most premier touring 360 Sprint car series. Visiting some of the nation's best facilities it is a series that offers some of the best racing you can find anywhere around. For the latest news and information log on to sprints.nwextremeseries.com. Also check out the WST Facebook page and be sure to "Like" it.
Additional Information:
2015 Western Sprint Tour Schedule
April 24th Cottage Grove Speedway Cottage Grove, OR Trey Starks
April 25th Cottage Grove Speedway Cottage Grove, OR Rained Out
May 23rd Southern Oregon Speedway White City, OR Roger Crockett
May 24th Cottage Grove Speedway Cottage Grove, OR Roger Crockett
June 28th Siskiyou Motor Speedway Yreka, CA (Speedweek Northwest)
June 29th Southern Oregon Speedway White City, OR (Speedweek Northwest)
June 30th Coos Bay Speedway Coos Bay, OR (Speedweek Northwest)
July 1st Travel Day
July 2nd Willamette Speedway Lebanon, OR (Speedweek Northwest)
July 3rd Cottage Grove Speedway Cottage Grove, OR (Speedweek Northwest)
July 4th Cottage Grove Speedway Cottage Grove, OR (Speedweek Northwest)
August 14th Siskiyou Motor Speedway Yreka, CA
August 15th Southern Oregon Speedway White City, OR
September 25th State Fair Raceway Yakima, WA
September 26th State Fair Raceway Yakima, WA
Past Speedweek Northwest Champions:
2013- Roger Crockett
2012- Mitch Olson
2011- Kyle Larson
2010- Roger Crockett
2009- Jesse Hockett
2008- Roger Crockett
2007- Shane Stewart
2006- Steve Kent
2005- Brent Kaeding
2004- Brent Kaeding
2003- Roger Crockett
2002- Steve Kent
2001- Steve Kent
2000- Steve Kent
1999- Brad Furr
1998- Bud Kaeding
---
Submitted By: Ben Deatherage
Back to News