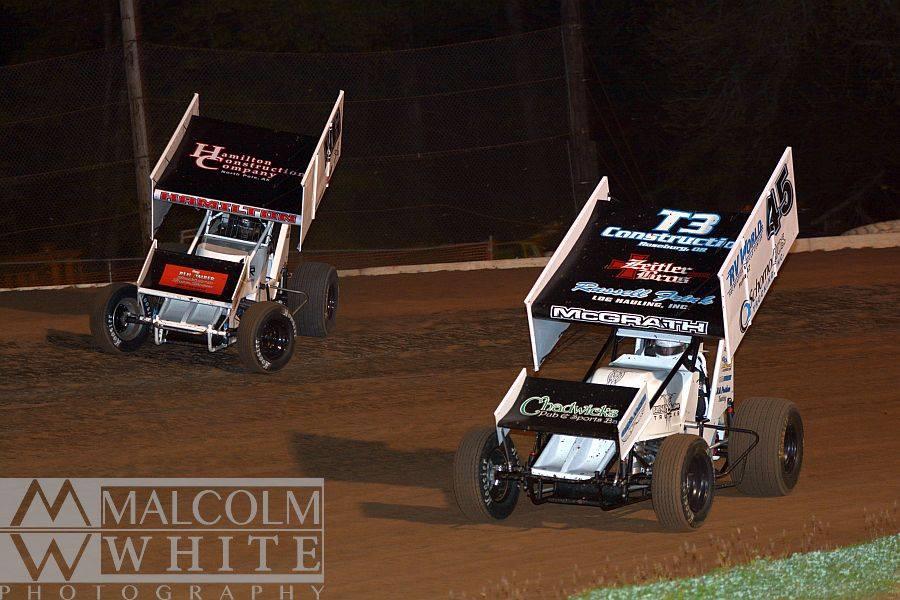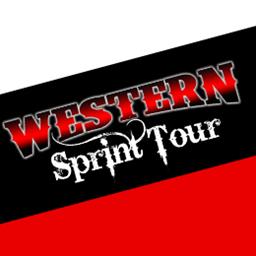 6/27/2015
Western Sprint Tour
---
Speedweek Northwest Continues Strong Tradition; First Year Under Western Sprint Tour Sanctioning
Speedweek Northwest Continues Strong Tradition; First Year Under Western Sprint Tour Sanctioning
By Ben Deatherage
(Photo Courtesy of Malcolm White Photography)
Speedweek Northwest has been a Sprint Car tradition in the Pacific Northwest region for over a decade. Created in 1998 by the late Fred Brownfield it would feature the best drivers in the Western United States racing at some of the most exciting venues in the country. Although over the years it has changed sanctioning bodies this year should be a very enjoyable one for both fans and drivers. The newly created Western Sprint Tour will sanction all six events beginning with the first leg at Siskiyou Motor Speedway in Yreka, California.
The Western Sprint Tour implements time trial qualifying and trophy dashes along with heat races and main events. This will be the first time Speedweek races have had qualifying and dashes in the format since the Northwest Sprint Challenge Series, or NSCS, sanctioned Speedweek back in 2007. Teams from all over the world are expected to compete through the whole week.
There have been ninety-two Speedweek Northwest races producing twenty-nine different winners. Roger Crockett tops the list with eighteen triumphs over Steve Kent's thirteen, the ten of Brent Kaeding, Shane Stewart's six, and both Travis Rilat and Brad Furr who have five each. Speaking of Brad Furr he is the only driver to sweep an entire Speedweek and that was back in 1999. Below this story is a full breakdown of all the different Speedweek winners courtesy of our friend Adam Ulrey at NWSprintCarHistory.com.
The Western Sprint Tour sanctioned Speedweek Northwest begins at Siskiyou Motor Speedway on Sunday June 28th and will conclude with the $5000.00 to win finale at Cottage Grove Speedway on Saturday July 4th. The best 360 Sprint drivers in the Western United States will race six events in seven nights at some of the best tracks in the country.
In the seventeen years Speedweek Northwest there have been ten different champions. Steve Kent and Roger Crockett are tied with four apiece while Brent Kaeding has two. Seven drivers have won the entire kit and caboodle just once which is a very impressive list of winners. That list includes Brad Furr, Jesse Hockett, Bud Kaeding, Kyle Larson, Shane Stewart, Mitch Olson, and in 2014 Kyle Hirst.
The Western Sprint Tour is the Pacific Northwest region's most premier touring 360 Sprint car series. Visiting some of the nation's best facilities it is a series that offers some of the best racing you can find anywhere around. For the latest news and information log on to sprints.nwextremeseries.com. Also check out the WST Facebook page and be sure to "Like" it.
Additional Information:
2015 Western Sprint Tour Schedule
April 24th Cottage Grove Speedway Cottage Grove, OR Trey Starks
April 25th Cottage Grove Speedway Cottage Grove, OR Rained Out 
May 23rd Southern Oregon Speedway White City, OR Roger Crockett
May 24th Cottage Grove Speedway Cottage Grove, OR Roger Crockett
June 28th Siskiyou Motor Speedway Yreka, CA (Speedweek Northwest)
June 29th Southern Oregon Speedway White City, OR (Speedweek Northwest)
June 30th Coos Bay Speedway Coos Bay, OR (Speedweek Northwest)
July 1st Travel Day
July 2nd Willamette Speedway Lebanon, OR (Speedweek Northwest)
July 3rd Cottage Grove Speedway Cottage Grove, OR (Speedweek Northwest)
July 4th Cottage Grove Speedway Cottage Grove, OR (Speedweek Northwest)
August 14th Siskiyou Motor Speedway Yreka, CA
August 15th Southern Oregon Speedway White City, OR
September 25th State Fair Raceway Yakima, WA
September 26th State Fair Raceway Yakima, WA
Past Speedweek Northwest Champions:
2013- Roger Crockett
2012- Mitch Olson
2011- Kyle Larson
2010- Roger Crockett
2009- Jesse Hockett
2008- Roger Crockett
2007- Shane Stewart
2006- Steve Kent
2005- Brent Kaeding
2004- Brent Kaeding
2003- Roger Crockett
2002- Steve Kent
2001- Steve Kent
2000- Steve Kent
1999- Brad Furr
1998- Bud Kaeding
All-Time Speedweek Northwest Win List (1998-Present):
Roger Crockett-18
Steve Kent-13
Brent Kaeding-10
Shane Stewart-6
Brad Furr-5
Travis Rilat
Kyle Hirst-4
Wayne Johnson
Jesse Hockett-3
Rickey Fauver-2
Danny Horner
Jason Johnson
Shawna Wilskey
Rico Abreu-1
Jonathon Allard
Colin Baker
Jayme Barnes
Jay Cole
Logan Forler
Travis Jacobson
Bud Kaeding
Kasey Kahne
Kyle Larson
Danny Lasoski
Mitch Olson
Jason Sides
Cam Smith
Jason Solwold
Henry Van Dam
---
Submitted By: Ben Deatherage
Back to News