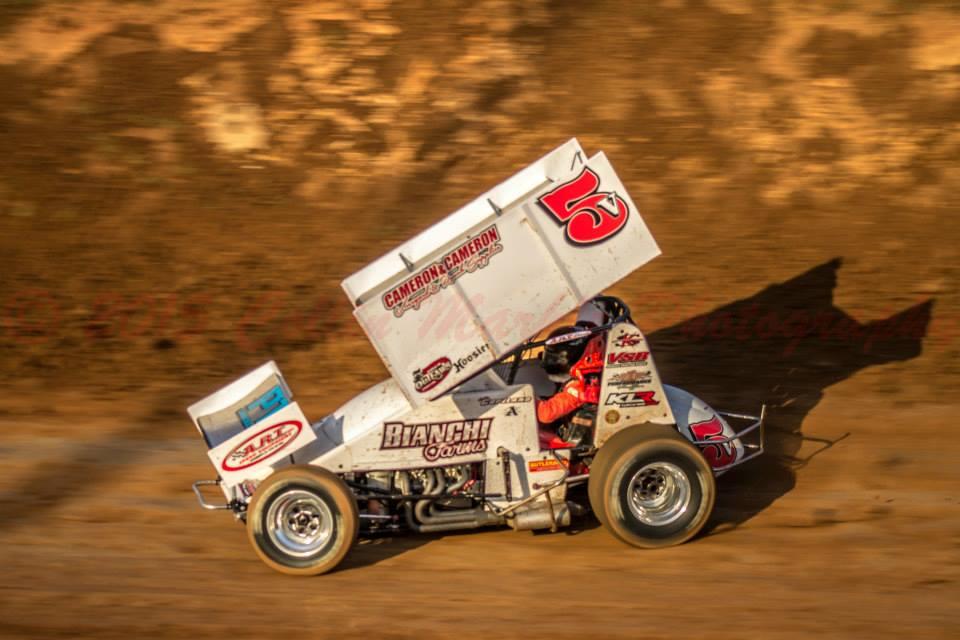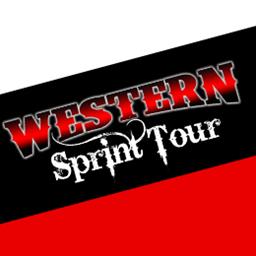 6/30/2015
Western Sprint Tour
---
Colby Copeland Makes Another Late Race Pass To Win Round #2 Of Speedweek Northwest
Colby Copeland Makes Another Late Race Pass To Win Round #2 Of Speedweek Northwest
By Ben Deatherage
(Photo Courtesy of Collin Markle Photography)
It was another electrifying night of racing for the Western Sprint Tour for the second race of the 2015 Speedweek Northwest for the Monday June 29th midweek race. With temperatures nearing the one-hundred degree mark the crowd at Southern Oregon Speedway would be on their feet the entire time during the main event. Twenty-eight drivers were in attendance representing the states of Oregon, California, Washington, and Montana as well as the countries of New Zealand and Australia.
Roseville, California young gun Colby Copeland was the leader in the opening lap of the main event in the Jim and Anette Van Lare owned Bianchi Farms/Cameron & Cameron Vineyard & Ranch Supplies/Kyle Larson Racing/Van Lare Steering Repair #5V A.R.T. As the field approached lapped traffic Roger Crockett would make an exciting pass on lap eight.
Crockett, in his Rocket Designs/Auto Stitch Embroidery/BC Motorsports/Parker Racing Engines #11 KPC, seemed to have the field the field covered but Copeland would not let him out of his sight. The only caution to occur during the race would be on lap nine which bunched the field up one last time.
With the long green flag run it would bring lapped traffic back into the picture. With just a few laps remaining Colby Copeland would make a daring move on lap twenty-six out of turn two as Crockett briefly got held up to take back the lead. It would be the second straight victory for Copeland as he has won the first two nights of the Speedweek.
Roger Crockett was second followed by the Scott and Jason Finley owned Finley Farms/CLT Logging/Rider Racing Engines #77 Maxim of Chico, California driver Kyle Hirst. Sean Becker, out of Roseville, California and driving the Dan and Cindi Menne owned Cherry Street Mini Storage/Mike's Hard Lemonade/PonyBracket.com/Shaver Specialties #75 Maxim, would end the night fourth after starting twelfth and the Wright Processing Systems/Larry Davis Farms/Tech9 Chassis/Stewart Ranch #94 Tech9 of Steven Tiner from Visalia, California was fifth and started fourteenth.
Roger Crockett was fast time of the night while heat races were won by Kyler Barraza of Roseburg in the Barraza Racing/Oregon Tool & Supply/Hedge Carter Gutter Service #87 Maxim, Snohomish, Washington's Seth Bergman in his Oilfield Equipment Manufacturing/Corridor Electric/Young Tool Company/Wesmar Racing Engines #23 Eagle, Colby Copeland, and Kyle Hirst. Kyler Barraza won the trophy to land the pole starting position for the main event and winning the consolation feature was Vern Wheeler Jr., of Central Point, in the Alliance Trucking/In & Out Gardens/Augie's Fiberglass & Boat/Richie Rich & The Tin Pimp Customs #21W JEI.
Speedweek Northwest continues to Coos Bay Speedway on Tuesday June 30th. Tickets are $18.00 for Adults, Juniors (7-17)/Seniors/Military $16.00, and Children six and under are FREE. Pit Gates open at Noon, Front Gates 4:00 PM, and Racing is scheduled to get kicked off around 6:00 PM. For more information log on to www.coosbayspeedway.us. For the latest info on the Western Sprint Tour visit their website at sprints.nwextremeseries.com.
Race Summary:
Western Sprint Tour Race #5/Speedweek Northwest Round #2
Monday June 29th, 2015
Southern Oregon Speedway
White City, Oregon
A Feature: 1. 5V-Colby Copeland; 2. 11-Roger Crockett; 3. 77-Kyle Hirst; 4. 75-Sean Becker; 5. 94-Steven Tiner; 6. 87-Kyler Barraza; 7. 35-Dominic Scelzi; 8. 1R-Ryan Robinson; 9. 22-Garen Linder; 10. 72-Phil Dietz; 11. 23-Seth Bergman; 12. 31C-Justyn Cox; 13. 55-Trey Starks; 14. 1NZ-Jamie Duff; 15. 11K-Michael (Buddy) Kofoid; 16. 5N-Seth Nunes; 17. 21-Colby Wiesz; 18. 44NZ-Daniel Anderson; 19. 5D-Patrick Dills; 20. 21W-Vern Wheeler
Hard Charger: Steven Tiner +9
Lap Leaders: Colby Copeland (1-5), Roger Crockett (6-25), Copeland (26-30)
B Feature: 1. 21W-Vern Wheeler; 2. 5N-Seth Nunes; 3. 44NZ-Daniel Anderson; 4. 5D-Patrick Dills; 5. 70-Raquel Ivie; 6. 45-Brent McGrath; 7. 25S-Camden Robustelli; 8. 2M-Aaron Miller; 9. 1-Bailey Hibbard; 10. 3-David Hibbard; 11. 3AU-Daniel Sayre; DNS 96-Greg Hamilton
Dash: 1. 87-Kyler Barraza; 2. 5V-Colby Copeland; 3. 1NZ-Jamie Duff; 4. 11-Roger Crockett; 5. 23-Seth Bergman; 6. 77-Kyle Hirst
Heat 1: 1. 87-Kyler Barraza; 2. 21-Colby Wiesz; 3. 55-Trey Starks; 4. 11-Roger Crockett; 5. 72-Phil Dietz; 6. 3AU-Daniel Sayre; 7. 45-Brent McGrath
Heat 2: 1. 23-Seth Bergman; 2. 75-Sean Becker; 3. 11K-Michael Kofoid; 4. 1NZ-Jamie Duff; 5. 1R-Ryan Robinson; 6. 5D-Patrick Dills; 7. 25S-Camden Robustelli
Heat 3: 1. 5V-Colby Copeland; 2. 3-David Hibbard; 3. 5N-Seth Nunes; 4. 94-Steven Tiner; 5. 31C-Justyn Cox; 6. 21W-Vern Wheeler; 7. 1-Bailey Hibbard
Heat 4: 1. 77-Kyle Hirst; 2. 35-Dominic Scelzi; 3. 22-Garen Linder; 4. 44NZ-Daniel Anderson; 5. 70-Raquel Ivie; 6. 2M-Aaron Miller; DNS 96-Greg Hamilton
Qualifying: 1. 11-Roger Crockett; 2. 1NZ-Jamie Duff; 3. 31C-Justyn Cox; 4. 77-Kyle Hirst; 5. 72-Phil Dietz; 6. 1R-Ryan Robinson; 7. 5V-Colby Copeland; 8. 22-Garen Linder; 9. 55-Trey Starks; 10. 23-Seth Bergman; 11. 94-Steven Tiner; 12. 35-Dominic Scelzi; 13. 87-Kyler Barraza; 14. 75-Sean Becker; 15. 21W-Vern Wheeler; 16. 44NZ-Daniel Anderson; 17. 21-Colby Wiesz; 18. 11K-Michael Kofoid; 19. 5N-Seth Nunes; 20. 96-Greg Hamilton; 21. 45-Brent McGrath; 22. 5D-Patrick Dills; 23. 3-David Hibbard; 24. 70-Raquel Ivie; 25. 3AU-Daniel Sayre; 26. 25S-Camden Robustelli; 27. 1-Bailey Hibbard; 28. 2M-Aaron Miller
Western Sprint Tour Point Standings (Top Ten):
55-Trey Starks 394; 2. 22-Garen Linder 374; 3. Roger Crockett 367; 4. 96-Greg Hamilton 325; 5. Justyn Cox 308; 6. 5N-Seth Nunes 293; 7. 45-Brent McGrath 276; 8. 87-Kyler Barraza 267; 9. 11K-Michael Kofoid 247; 10. 5D-Patrick Dills 242
Speedweek Northwest Point Standings (Top Ten):
5V-Colby Copeland 188; 2. 77-Kyle Hirst 185; 3. 11-Roger Crockett 169; 4. 75-Sean Becker 163; 5. 94-Steven Tiner 161; 6. 31C-Justyn Cox 152; 7. 35-Dominic Scelzi 149; 8. 1R-Ryan Robinson 144; 9. 87-Kyler Barraza 138; 10. 22-Garen Linder 135
---
Submitted By: Ben Deatherage
Back to News