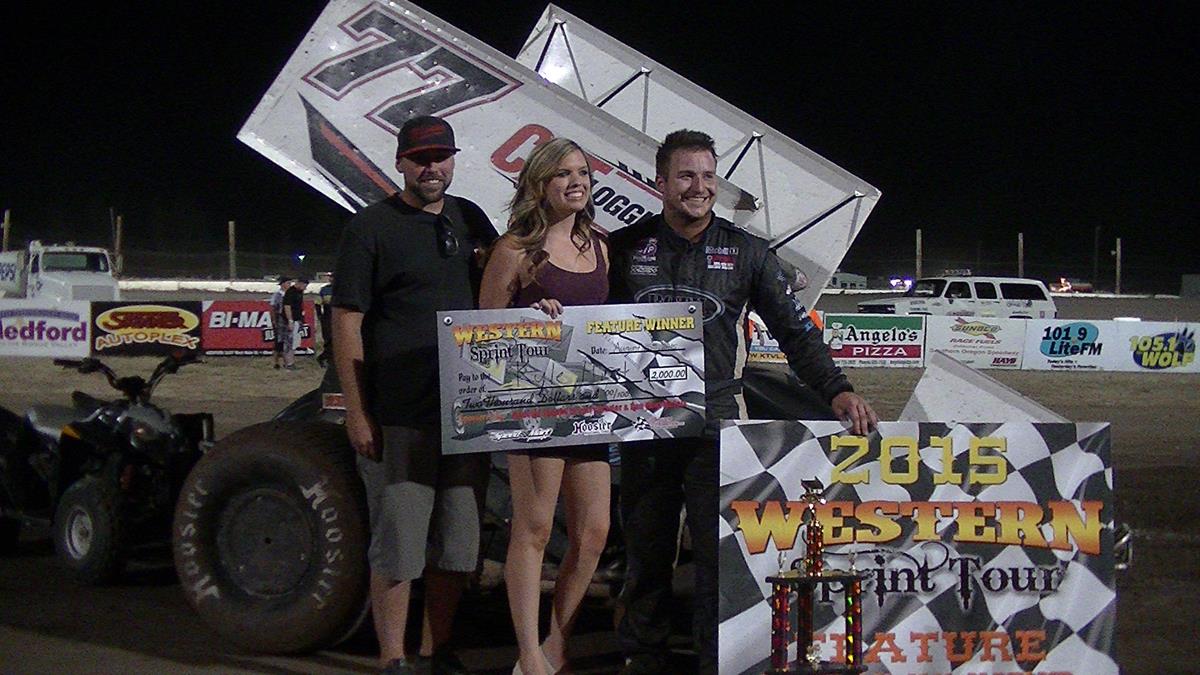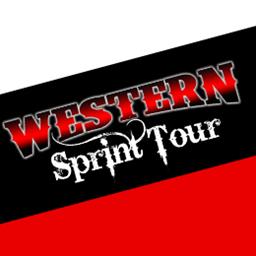 8/16/2015
Western Sprint Tour
---
Kyle Hirst Sweeps Ore-Cal Challenge With Southern Oregon Speedway Triumph
Kyle Hirst Sweeps Ore-Cal Challenge With Southern Oregon Speedway Triumph
By Ben Deatherage
(Photo Courtesy of Northwest Racing Productions)
Southern Oregon Speedway would be the site of the second and final round of the 2015 Ore-Cal Challenge with the Western Sprint Tour on Saturday August 15th. It would also mark the final occasion the WST will compete in the state of Oregon for the rest of the season. Fourteen total cars would be present in the pit area from the states of Oregon, Washington, and California.
Jared Peterson of Stanwood, Washington would get the early race lead off of the initial start only to have to give it up due to a caution flag. The Finley Farms/CLT Logging/Rider Racing Engines #77 Maxim of Chico, California's Kyle Hirst, driving for car owners Scott and Jason Finley, would get the top spot on the second attempt. Hirst would set a very rapid pace after that.
Once Kyle Hirst hit lapped traffic it looked like Peterson would overtake him but Hirst was able to make a few key moves to maneuver around the slower cars to distance himself from the rest of the field again. Hirst would be briefly held up for a couple of circuits late in the main but was able to get clear when it counted. Hirst would sweep the Ore-Cal Challenge to collect his second career WST victory and the second time he has won the overall Ore-Cal Challenge title.
Jared Peterson would finish second in the Roger Henderson owned Cascade Auto Recycling/Island Muffler & Brake/Bailey Brothers Performance Center/Dave Qualow Trucking #7N KPC followed by the Starks Timber Processing/Southland Equipment Limited/MASCO Petroleum/T&C Concepts #55 J&J of Trey Strarks from Puyallup, Washington in third. The rest of the top five was made up of Cottage Grove's Patrick Dills, in fourth, piloting his Jacob Daniels Attorney at Law/Oregon State Representative Cedric Ross Hayden/M.D. Yearous Logging/Devine Continuous Gutters #5D KPC while the All Star Powdercoating/Corban Learning Center #21 KPC of Colby Wiesz from Colfax, California in fifth.
Trey Starks was fast time of the night and Jared Peterson would win the trophy dash. Heat race winners included Central Point's Chadd Noland, driving his BC Motorsports/Biomass One #13 KPC, and Peterson.
The Western Sprint Tour will wrap up the whole entire season at Central Washington State Fair Raceway in Yakima, Washington on Friday September 25th and Saturday the 26th. For the latest news and information regarding the WST log on to sprints.nwextremeseries.com.
Race Summary:
Western Sprint Tour Race #11/Ore-Cal Challenge Round #2
Saturday August 15th, 2015
Southern Oregon Speedway
White City, Oregon
A Feature : 1. 77-Kyle Hirst; 2. 7N-Jared Peterson; 3. 55-Trey Starks; 4. 5D-Patrick Dills; 5. 21-Colby Wiesz; 6. 8R-Steven Tiner; 7. 13-Chadd Noland; 8. 11K-Michael (Buddy) Kofoid; 9. 4D-Cooper Desbiens; 10. 9-D.J. Freitas; 11. 10K-Don Waddell; 12. 12-Jared Ridge; 13. 04-Todd Whipple; 14. 85-Ricky Ashley
Dash : 1. 7N-Jared Peterson; 2. 77-Kyle Hirst; 3. 5D-Patrick Dills; 4. 55-Trey Starks; 5. 21-Colby Wiesz; 6. 8R-Steven Tiner
Heat 1: 1. 13-Chadd Noland; 2. 55-Trey Starks; 3. 21-Colby Wiesz; 4. 85-Ricky Ashley; 5. 12-Jared Ridge; 6. 9-D.J. Freitas; 7. 10K-Don Waddell
Heat 2: 1. 7N-Jared Peterson; 2. 5D-Patrick Dills; 3. 8R-Steven Tiner; 4. 77-Kyle Hirst; 5. 11K-Michael (Buddy) Kofoid; 6. 4D-Cooper Desbiens; 7. 04-Todd Whipple
Qualifying : 1. 55-Trey Starks; 2. 77-Kyle Hirst; 3. 12-Jared Ridge; 4. 7N-Jared Peterson; 5. 9-D.J. Freitas; 6. 8R-Steven Tiner; 7. 21-Colby Wiesz; 8. 11K-Michael (Buddy) Kofoid; 9. 13-Chadd Noland; 10. 5D-Patrick Dills; 11. 85-Ricky Ashley; 12. 4D-Cooper Desbiens; 13. 10K-Don Waddell; 14. 04-Todd Whipple
Current Western Sprint Tour Point Standings (Top Ten):
55-Trey Starks 911; 2. 77-Kyle Hirst 702; 3. 11-Roger Crockett 694; 4. 22-Garen Linder 647; 5. 5D-Patrick Dills 635; T 11K-Michael Kofoid 635; 7. 94/8R-Steven Tiner 633; 8. 31C-Justyn Cox 622; 9. 96-Greg Hamilton 576; 10. 21-Colby Wiesz 545
Final Ore-Cal Challenge Point Standings
77-Kyle Hirst 196; 2. 55-Trey Starks 186; 3. 7N-Jared Peterson 165; T 21-Colby Wiesz 165; 5. 5D-Patrick Dills 160; 6. 12-Jared Ridge 149; ; 7. 94/8R-Steven Tiner 144; 8. 9-D.J. Freitas 142; 9. 11K-Michael Kofoid 137; 10. 13-Cadd Noland 135; 11. 04-Todd Whipple 127; 12. 4D-Cooper Desbiens 126; 13. 7K-Kenny Allen 72; 14. 45-Brent McGrath 68; 15. 10K-Don Waddell 63; 16. 85-Ricky Ashley 61
---
Submitted By: Ben Deatherage
Back to News