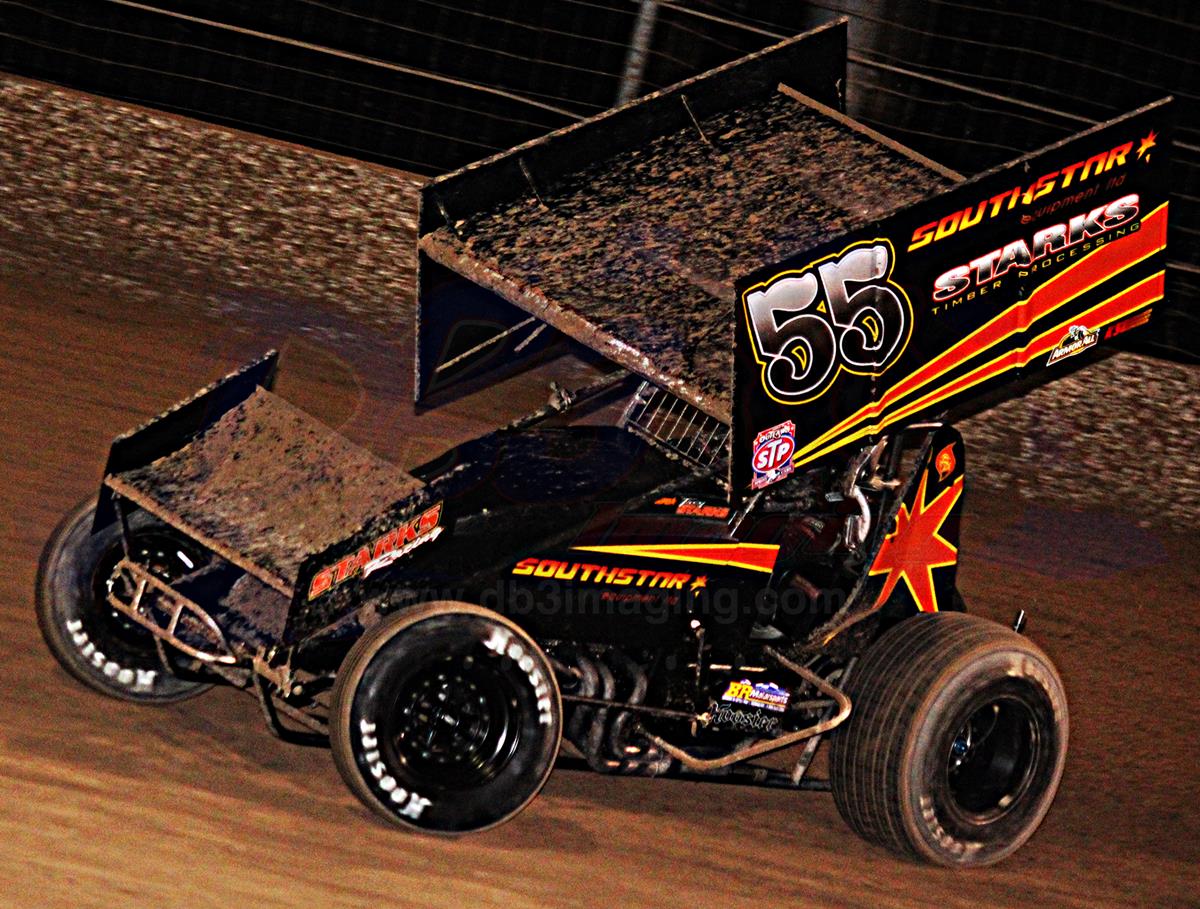 8/18/2015
Inside Line Promotions
---
Starks Uses Pair of Podiums to Extend Championship Lead During WST Doubleheader
(Photo by DB3 Imaging)
Inside Line Promotions – WHITE CITY, Ore. (Aug. 18, 2015) – Trey Starks garnered a pair of podium finishes with the Western Sprint Tour last weekend to extend his lead to 209 points in the championship standings with only two races remaining.
"We had a solid weekend," he said. "We had good runs every night. We were a little short each night, but overall it was a good weekend."
Starks kicked off the weekend last Friday at Siskiyou Motor Speedway in Yreka, Calif., by qualifying second quickest. He then advanced from sixth to second place during a heat race, which locked him into the feature redraw. However, he pulled the second-highest number – five – to start the dash on the inside of the third row.
Starks ended fifth in the dash to line up in that position for the feature.
"In the main we were really good," he said. "We were passing cars left and right and moving forward. We got into second with about 10 laps to go. We were running down Kyle Hirst for the lead. The track was a little tricky. In turns three and four the cushion was pretty big. You had to be real careful. I kept pushing it and we got within a couple car lengths of him. He jumped the cushion in turn four and I followed him. We jumped it really bad and I almost got upside down. We gathered it back up and ran the last couple of laps conservatively to come home with a second-place finish."
Starks followed that performance with another solid run on Saturday at Southern Oregon Speedway, where he set quick time during qualifying before maneuvering from sixth to second place during a heat race. He locked into the dash, but pulled the highest number – six – to start on the outside of the third row.
Starks picked up two positions in the dash to line up on the outside of the second row for the main event.
"On the initial start I got around Kyle and had Jared Peterson in my sights, but they had a caution," he said. "That put us back and on the second start we got in line in third. At that point the track was a little slick, but it was mostly one lane on the top in turns three and four and on the bottom in turns one and two. There wasn't a lot of passing to be done. We rode it out and took what we could."
Starks ended with a third-place finish, which marked his fifth straight podium and 11th consecutive top 10.
He will drive for Doug Rutz this Friday and Saturday at Castrol Raceway in Edmonton, Alberta, Canada, where Starks will make his debut.
QUICK RESULTS –
Aug. 14 – Siskiyou Motor Speedway in Yreka, Calif. – Qualifying: 2; Heat race: 2 (6); Dash: 5 (5); Feature: 2 (5).
Aug. 15 – Southern Oregon Speedway in White City, Ore. – Qualifying: 1; Heat race: 2 (6); Dash: 4 (6); Feature: 3 (4).
SEASON STATS –
41 races, 3 wins, 21 top fives, 25 top 10s, 31 top 15s, 35 top 20s
UP NEXT –
Friday and Saturday at Castrol Raceway in Edmonton, Alberta, Canada
MEDIA LINKS –
Website: http://www.TreyStarksRacing.com
Twitter: https://twitter.com/Starks55Trey
Facebook: https://www.facebook.com/TreyStarksRacing?fref=ts
APPAREL –
Starks has t-shirts and hoodies for sale at http://www.TreyStarksRacing.com.
SPONSOR SPOTLIGHT – Southstar Equipment
Southstar Equipment was launched three years ago by Dave Cochrane, founder of the Waratah Group. His goal is to bring new, innovative products to the logging industry. With good old fashion 'know how' Dave has engineered a series of processors that meet the need of today's logging contractors. By focusing on reliability and production, Southstar has developed some of the most innovative harvesting equipment today. For more information, visit http://www.SouthstarEquipment.com.
"Southstar Equipment helps my dad with his timber processing company," Starks said. "They have helped my dad out a lot and produce great equipment. We're very excited to have them on board."
Starks would also like to thank Starks Timber Processing, Blue Dot Fabrications, King Racing Products, SpeedMart, Masco Petroleum, RCC Powder Coating and Emory Transmission for their continued support.
INSIDE LINE PROMOTIONS –
Inside Line Promotions specializes in affordable public relations and media management for motor sports drivers, teams, sponsors, tracks, series, events, organizations and manufacturers. ILP Founder Shawn Miller leverages professional journalism with new media technologies and social networking to improve your exposure and the return on investment for your sponsors.
To meet the media relations needs of your program by joining Team ILP, contact Shawn at 541-510-3663 or Shawn@InsideLinePromotions.com. For more information on Inside Line Promotions, visit http://www.InsideLinePromotions.com.
---
Article Credit: Inside Line Promotions
Submitted By: Shawn Miller
Back to News