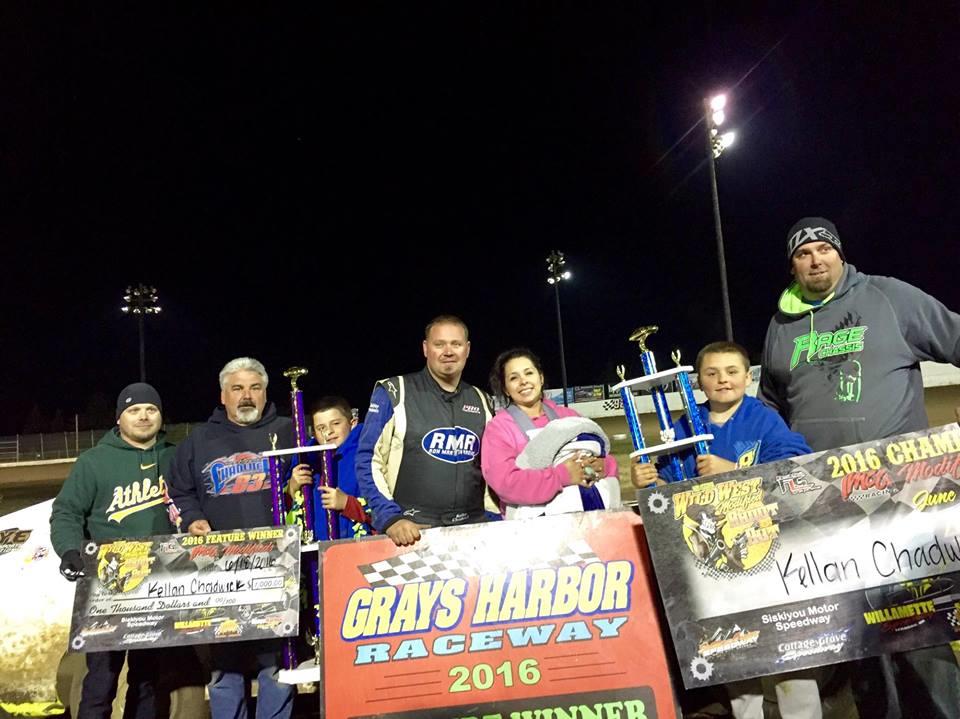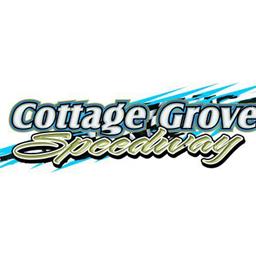 6/21/2016
Cottage Grove Speedway
---
Kellen Chadwick Becomes Fourth Different Wild West Modified Shootout Champion; Ties Record For Most Wins In A Season
Kellen Chadwick Becomes Fourth Different Wild West Modified Shootout Champion; Ties Record For Most Wins In A Season
By Ben Deatherage
(Photo Courtesy of Speed Shift TV)
The 2016 Wild West Modified Shootout is finally in the books and it was one fantastic week of racing. Of the seven races on the schedule the only one to fall to weather, although a handful of others had threatening skies, was just the final feature at Willamette Speedway on June 15th. Still the tour would visit six different race tracks in California, Oregon, and Washington for seven races in eight nights.
Around ninety drivers would compete in at least one race during the course of the week. Teams and drivers traveled from eight different states (Oregon, Washington, California, Montana, North Dakota, Colorado, North Carolina, and Missouri) as well as one Canadian province (British Columbia). Kellen Chadwick would best them all in dominating fashion in his first time ever competing with the Wild West Modified Shootout.
Kellen Chadwick tied the most main event wins in a season with his four triumphs, which Brian Poppa also accomplished in the 2011 tour, while Mark Wauge and Ryan Gaylord also managed to visit victory lane. Chadwick also was at the top of the top five finishes category (four) and heat race wins (seven). Brad Martin and Mark Carrell tied for most B Main wins (two) while there was no repeat winner of the Last Chance Qualifiers.
Kellen Chadwick, of Oakley, California, would win the 2016 championship with a ninety-three point advantage over second place in the standing. He became the fourth different title winner of the Wild West Modified Shootout joining Jesse Williamson, Alex Stanford, and the aforementioned Brian Poppa.
Collen Winebarger would post a career best second place in the final points table. The Corbett, Oregon native had three top five finishes and two heat race wins. Winebarger's best performances were two third place results at Southern Oregon Speedway on June 11th followed by Siskiyou Motor Speedway the following night.
John Campos would have a breakout campaign in this year's Wild West Modified Shootout. Hailing from Keizer, Oregon, Campos, would finish among the top five once, was victorious in five heat races, and won one B Main. Campos' only top five came in the final night of action at Grays Harbor Raceway on June 18th and was a third place result.
Nipomo, California's Danny Lauer ended the tour fourth in the standings. Lauer was able to have two top five results, win six heat races, and one B Main victory. His best runs were two fourth place finishes. The first came at Siskiyou Motor Speedway on June 12th and the other was June 14th at Cottage Grove Speedway.
Alex Stanford had a roller coaster of a Speedweek. The 2014 Wild West Modified Shootout champion would only finish among the top five once, won one heat race, and finished first in a B Main once. Although he only finished in the top five on one occasion it was a strong second place run at Cottage Grove on June 14th.
The rest of the top ten in the final standings were (in order) Ryan Gaylord, Rob Ireland, Mark Wauge, Mark Carrell, and Bricen James. Wauge and Carrell would tie for ninth place.
Be sure and visit the Wild West Modified Shootout Facebook page in the coming months to learn about the 2017 schedule and any other news that we will be releasing. Finally we would like to thank all of the teams for making the trip, the facilities and their staffs for being such wonderful hosts, the fine folks at Sunset Speedway Park and FinishLine Graphics for helping put on the Appreciation Party on June 16th, and last but not least all of the wonderful fans that support the sport we all love.
2016 Wild West Modified Shootout Schedule
(Date-Track-Location-Winner)
June 11th-Southern Oregon Speedway-White City, OR-Ryan Gaylord
June 12th-Siskiyou Motor Speedway-Yreka, CA-Kellen Chadwick
June 13th-Cottage Grove Speedway-Cottage Grove, OR-Kellen Chadwick
June 14th-Cottage Grove Speedway-Cottage Grove, OR-Mark Wauge
June 15th-Willamette Speedway-Lebanon, OR-Rain Out
June 17th-Sunset Speedway Park-Banks, OR-Kellen Chadwick
June 18th-Grays Harbor Raceway-Elma, WA-Kellen Chadwick
Final Point Standings (Top Twenty):
83-Kellen Chadwick 607*; 2. S-Collen Winebarger 514*; 3. 3. 36-John Campos 510*; 4. 2-Danny Lauer 434*; 5. 98-Alex Stanford 433; 6. 7R-Ryan Gaylord 432; 7. 8-Rob Ireland 416*; 8. 1M-Mark Wauge 414; T 27-Mark Carrel 414; 10. 13-Bricen James 412; 11. 11S-Steven Sturdevant 403*; 12. 16S/51-Jerry Schram 387*; 13. 19SB-Lance Mari 385; 14. 16B-Randy Brown 384; 15. 11-Tom Sweatman 365*; 16. V13-Grey Ferrando 359*; 17. 57-Ethan Landers 346*; 18. 12-B.J. Wild 341; 19. 77T-Tripp Gaylord 334; 20. 88-Kevin Roberts
*- denotes drivers that made every single race of the 2016 Wild West Modified Shootout
Main Event Wins:
Kellen Chadwick- 4
Ryan Gaylord- 1
Mark Wauge
Top Five Finishes:
Kellen Chadwick- 5
Ryan Gaylord- 3
Collen Winebarger
Mark Carrell- 2
Bricen James
Danny Lauer
Jesse Williamson
Randy Brown- 1
John Campos
Graham Cook
Tripp Gaylord
Lance Mari
Jeremy Martin
Brian Poppa
Ken Schrader
Alex Stanford
Tom Sweatman
Mark Wauge
Heat Race Wins:
Kellen Chadwick- 7
Danny Lauer- 6
John Campos- 5
Mark Wauge
Mark Carrell- 4
Grey Ferrando
Ryan Gaylord- 2
Tripp Gaylord
Bricen James
Lance Mari
Travis Peery
Brian Poppa
Ken Schrader
Alex Stanford
Curtis Towns
Jesse Williamson
Collen Winebarger
Eric Ashley- 1
Jesse Bailey
Chris Beaulieu
Monte Bischoff
Randy Brown
Craig Cassell
Kyle Casson
Kinzer Cox
Matthew Drager
Ethan Landers
Doug Lockwood
Preston Luckman
Scott Miller
Kyler Moore
Lawrence O'Conner
Zach Olson
Kevin Roberts
Jerry Schram
Zack Simpson
Kevin Smith
Steven Sturdevant
Nick Trenchard
B.J. Wild
B Main Wins:
Mark Carrell- 2
Brad Martin
Eric Ashley- 1
John Campos
Matthew Drager
Ryan Gaylord
Bricen James
Don Jenner
Danny Lauer
Lance Mari
Jake Mayden
Travis Peery
Mark Reser
Alex Stanford
Steven Sturdevant
Nick Trenchard
Last Chance Qualifier Wins:
Ryan Gaylord- 1
Jeremy Shank
Steven Sturdevant
Brian Thompson
---
Submitted By: Ben Deatherage
Back to News