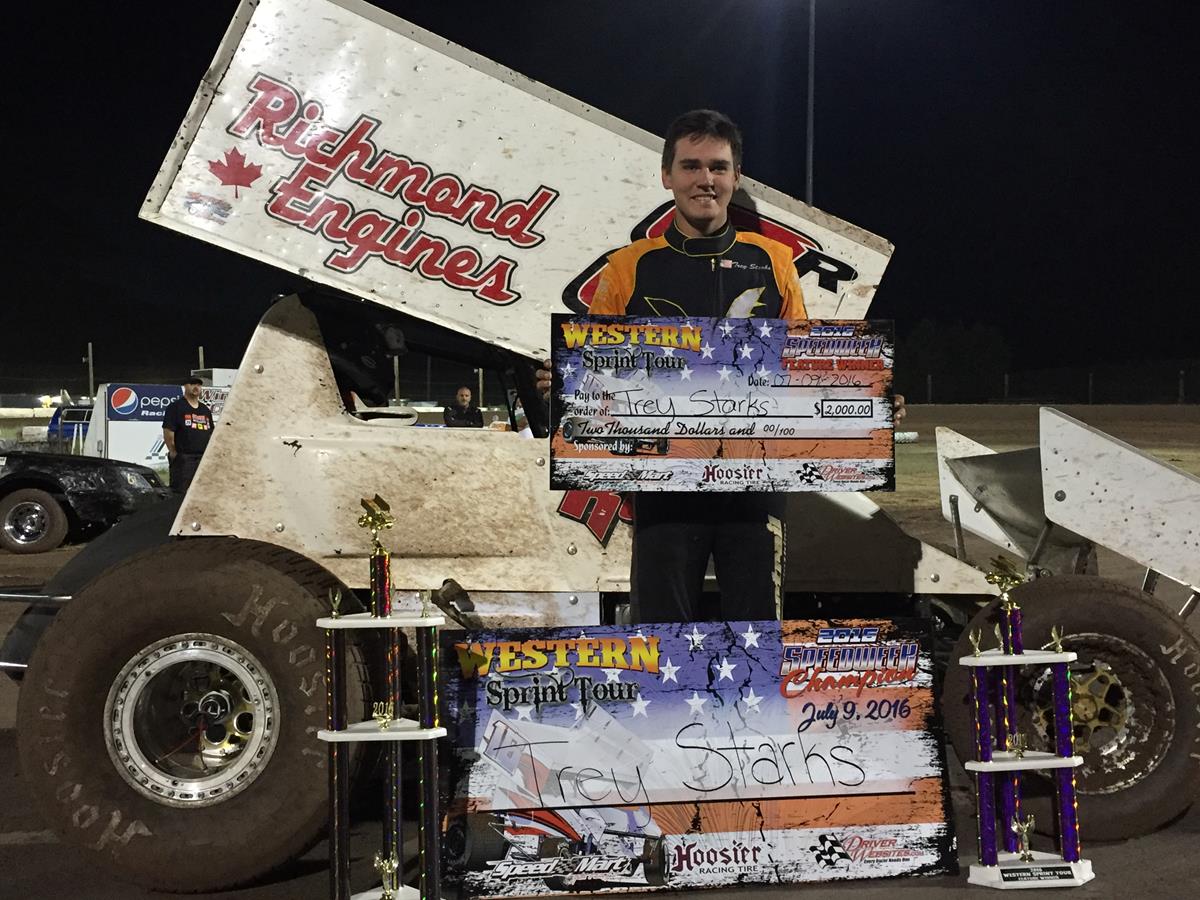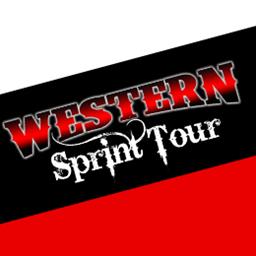 7/11/2016
Western Sprint Tour
---
Trey Starks Wins Speedweek Northwest Finale At Southern Oregon; Wins 2016 Speedweek Northwest Title
Trey Starks Wins Speedweek Northwest Finale At Southern Oregon; Wins 2016 Speedweek Northwest Title
By Ben Deatherage
(Photo Courtesy of Northwest Racing Productions)
White City, Oregon- Saturday July 9th would be the sixth and final race of the 2016 Speedweek Northwest schedule. The venue was Southern Oregon Speedway in White City, located just outside of the Medford/Central Point area, and despite some showers the night before all of the racing would be completed. A total of twenty-two Sprint Cars would show up from the states of Oregon, Washington, and California as well as the Southland region of New Zealand.
Despite a slow start to the feature due to a couple of incidents the third attempt would be the charm. Jared Ridge, now living in Grants Pass, seized the lead. Ridge would set a rapid pace for a fair amount of laps until some lapped traffic was thrown into the mix. Trey Starks would grab the top position via the outside on lap seven.
Starks, of Puyallup, Washington and driving for car owners Doug and Kathy Rutz, would only be slowed down by two stoppages but he would master each restart. He would receive a little bit of pressure late in the race but in the end kept all challengers behind him. Trey would win his first career Speedweek Northwest feature and became the fifth different winner in six races for this year's schedule. Once all of the points were tallied up Starks had the most with three markers to spare over second place and the second time a driver from Washington captured a Speedweek title.
Hanford, California's Mitchell Faccinto in the Stan Greenberg owned entry, was second followed by Roger Crockett of Medford in third. Jared Ridge ended the night fourth while the fifth finisher was Jonathan Allard, from Chico, California, in the Rod Fauver machine.
Roger Crockett was quick time in time trials. Heat race winners were Crockett, Albany's Bricen James who was driving for Tim Galloway, and Jared Ridge. Ridge would sit on the pole of the feature after winning the trophy dash.
Race Summary:
Speedweek Northwest Race #6
Saturday, July 9th, 2016
Southern Oregon Speedway
White City, Oregon
A Feature: 1. 8R-Trey Starks; 2. 37-Mitchell Faccinto; 3. 11-Roger Crockett; 4. 12-Jared Ridge; 5. 64-Jonathan Allard; 6. 51-Bricen James; 7. 21W-Jake Wheeler; 8. 94-Steven Tiner; 9. 22-Garen Linder; 10. 44NZ-Daniel Anderson; 11. 1B-Chelsea Blevins; 12. 1-Bailey Hibbard; 13. 10-Don Waddell; 14. 54-Bill Hopper; 15. 26F-Shane Forte; 16. 5D-Patrick Dills; 17. 3-David Hibbard; 18. 9-D.J. Freitas; 19. 5-Brian Boswell; 20. 04-Todd Whipple; 21. 70-Raquel Ivie; (DNS) 4D-Cooper Desbiens
Dash: 1. 12-Jared Ridge; 2. 8R-Trey Starks; 3. 94-Steven Tiner; 4. 37-Mitchell Faccinto; 5. 51-Bricen James; 6. 11-Roger Crockett
Heat 1: 1. 11-Roger Crockett; 2. 26F-Shane Forte; 3. 94-Steven Tiner; 4. 3-David Hibbard; 5. 9-D.J. Freitas; 6. 70-Raquel Ivie; 7. 04-Todd Whipple; (DNS) 4D-Cooper Desbiens
Heat 2: 1. 51-Bricen James; 2. 37-Mitchell Faccinto; 3. 21W-Jake Wheeler; 4. 64-Jonathan Allard; 5. 22-Garen Linder; 6. 10-Don Waddell; 7. 5-Brian Boswell
Heat 3: 1. 12-Jared Ridge; 2. 5D-Patrick Dills; 3. 1B-Chelsea Blevins; 4. 8R-Trey Starks; 5. 44NZ-Daniel Anderson; 6. 1-Bailey Hibbard; 7. 54-Bill Hopper
Qualifying: 1. 11-Roger Crockett; 2. 37-Mitchell Faccinto; 3. 8R-Trey Starks; 4. 94-Steven Tiner; 5. 22-Garen Linder; 6. 12-Jared Ridge; 7. 9-D.J. Freitas; 8. 64-Jonathan Allard; 9. 1B-Chelsea Blevins; 10. 70-Raquel Ivie; 11. 21W-Jake Wheeler; 12. 5D-Patrick Dills; 13. 3-David Hibbard; 14. 51-Bricen James; 15. 44NZ-Daniel Anderson; 16. 26F-Shane Forte; 17. 5-Brian Boswell; 18. 1-Bailey Hibbard; 19. 04-Todd Whipple; 20. 10-Don Waddell; 21. 54-Bill Hopper; 22. 4D-Cooper Desbiens
Speedweek Northwest Point Standings (Top Ten):
1, 8R-Trey Starks 499; 2. 94-Steven Tiner 496; 3. 37-Mitchell Faccinto 408; 4. 21WR-Jake Wheeler 404; 5. 5H-Cory Eliason 348; 6. 51-Bricen James 347; 7. 11-Roger Crockett 343; 8. 44NZ-Daniel Anderson 341; 9. 26F-Shane Forte 336; 10. 5-Brian Boswell 318
---
Submitted By: Ben Deatherage
Back to News