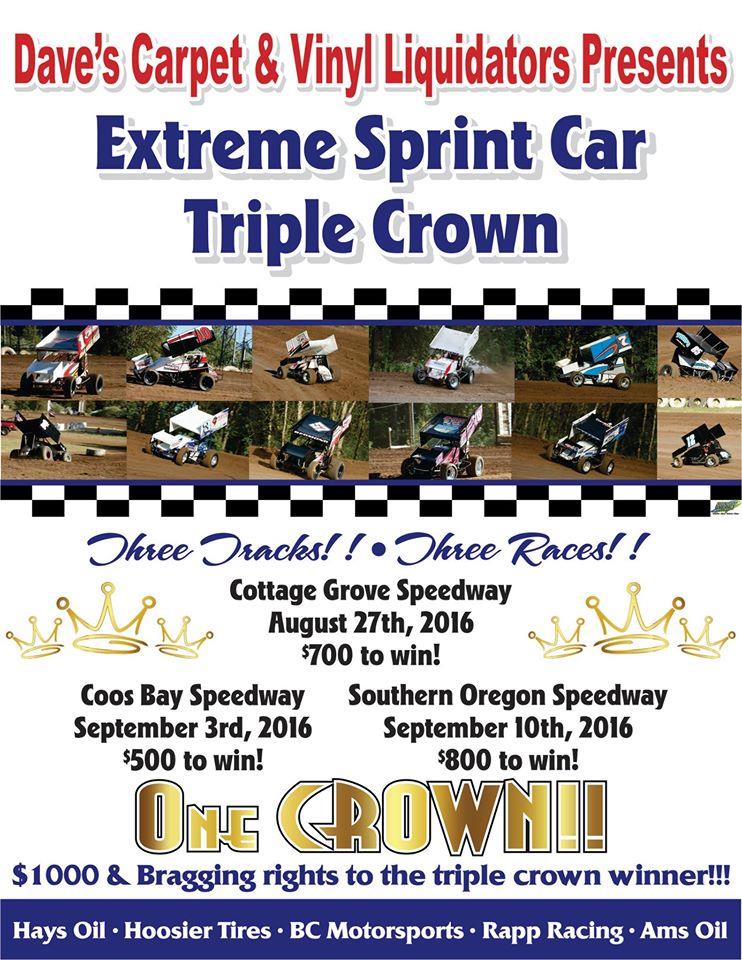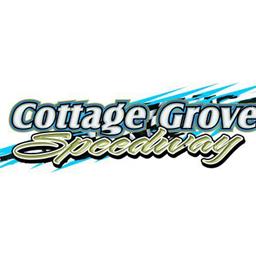 8/26/2016
Cottage Grove Speedway
---
Extreme Sprint Car Triple Crown Coming To Oregon; Three Race Mini-Series Sponsored By Dave's Carpet & Vinyl Liquidators
Extreme Sprint Car Triple Crown Coming To Oregon; Three Race Mini-Series Sponsored By Dave's Carpet & Vinyl Liquidators
By Ben Deatherage
The Pacific Northwest will be receiving a brand new mini-series for a three-race deal. The events will take place over the course of three consecutive Saturdays and will be at three different race tracks. The man responsible for putting this deal together is Dave Hibbard of Dave's Carpet & Vinyl Liquidators, which so happens to be the title sponsor.
The Extreme Sprint Triple Crown gets underway at Cottage Grove Speedway on Saturday, August 27th. The race will be $700.00 and is the last race of the season for the Clark Printing Extreme Sprints at the ¼-mile clay oval. CGS boasts a strong base of cars and averages around a dozen cars every race.
Saturday, September 3rd will see the series travel to the Coos Bay Speedway on the Oregon coast. The facility has a decent base of cars that can be quite competitive and should be fun to see how they do against the travelers. The winner of the Coos Bay show will receive $500.00.
Finally, the last leg of the journey is on Saturday, September 10th at Southern Oregon Speedway in White City. This race is a $800.00 to win event and will be a wild card of a track for many of the travelers who have little or no experience at the facility. SOS ran Crate Sprint Cars for a couple of years but has not the last few seasons.
Once all the points are tallied and collected it will be a $1000.00 bonus to the highest finisher. With so many skilled and talented Extreme Sprint drivers in the state of Oregon, it really will be fun to see how things shake out.
This wouldn't have been possible without the support of some wonderful sponsors stepping up to the plate in the last few weeks. Dave's Carpet & Vinyl Liquidators, Hays Oil, Hoosier Racing Tires, BC Motorsports, Rapp Racing, and AMS Oil are all proud sponsors of this year's Extreme Sprint Car Triple Crown. For any drivers that have any questions feel free to contact Dave Hibbard at (541)-778-3081.
At Dave's Carpet and Vinyl Liquidators they ensure the best quality carpet, vinyl, laminate, cabinets, tile/stone, and hardwood for the least out of your pocket, today, and in the long run. They sell everything at wholesale prices meaning our product is going to be a better deal than if our competitor had the identical product. When you shop at Dave's Carpet & Vinyl Liquidators you are spending your money right here in your own community. For more information, log on to www.daveswholesalecarpetandvinylliquidations.com, visit them at 171 Ehrman Way in Medford, or give them a call at (541)-779-2922.
2016 Dave's Carpet & Vinyl Liquidators Extreme Sprint Car Triple Crown Schedule:
Saturday, August 27th-Cottage Grove Speedway-Cottage Grove, Oregon
Saturday, September 3rd-Coos Bay Speedway-Coos Bay, Oregon
Saturday, September 10th-Southern Oregon Speedway-White City, Oregon
2016 Dave's Carpet & Vinyl Liquidators Extreme Sprint Car Triple Crown Sponsors
Dave's Carpet & Vinyl Liquidators
Hays Oil
Hoosier Racing Tires
BC Motorsports
Rapp Racing
AMS Oil
---
Submitted By: Ben Deatherage
Back to News