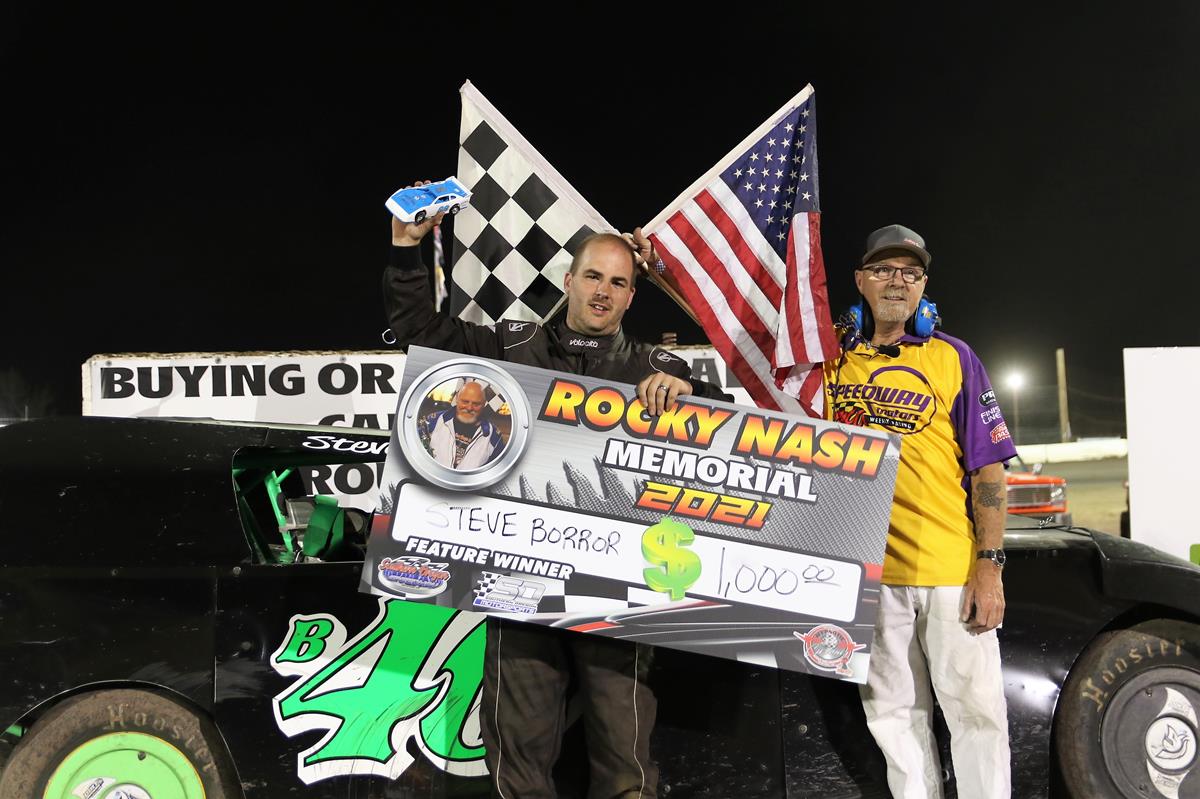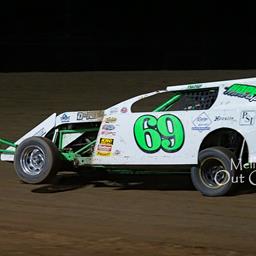 8/5/2021
Southern Oregon Speedway
---
Borror Wins Rocky Nash Memorial At SOS; Steele And Knight Also Earn Chamber Of Commerce Night Victories
Borror Wins Rocky Nash Memorial At SOS; Steele And Knight Also Earn Chamber Of Commerce Night Victories
By Stephanie Deatherage
(Photo Courtesy of Carole Bryan/Shadows of Light Photography)
White City, Oregon- Southern Oregon Speedway returned to busy action on Saturday, July 31st. The track hosted the Rocky Nash Memorial for the Tri-State Pro Stock Series presented by Jay's Mobile Welding. It was also Chamber Of Commerce Night, and the Mini Stocks and Rapp Racing Late Mod 4's were on tap too.
Klamath Falls cruiser Steve Borror was atop the leaderboard when the checkered flag waved in the Outlaw Pro Stock main event. Grass Valley, California's Richard Brace Jr. was second with third place going to Scott Lenz of Eagle Point. Scott and James Flowers, both from Klamath Falls, rounded up the top five finishing positions.
Talent's David Steele hit pay dirt in the Mini Stock ranks. Ashtin Hedges, from White City, and Klamath Falls native Quintyn Ericks were second and third. Montague, California travelers Connor Franklin and Logan McKnight got credit for fourth and fifth.
In the Rapp Racing Late Mod 4's, Dustin Knight was the victor. The Central Point chauffeur is the second different winner in as many shows in 2021. Chirs Salyer, from Central Point, posted a runner-up finish while third was Charlie Eaton. Shady Cove's David Marble completed the running order in fourth.
Friday, August 6th, and Saturday, the 7th, will have Southern Oregon Speedway host the Nitro Monster Trucks. This will be a must-see event that you do not want to miss. For more information, be sure and check out the Southern Oregon Speedway Facebook page.
---
Submitted By: Ben Deatherage
Article Media
Back to News