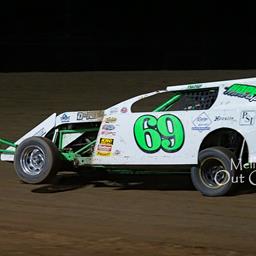 9/2/2021
Southern Oregon Speedway
---
Wheeler, Luckman claim August 28 wins at Southern Oregon
Wheeler, Luckman claim August 28 wins at Southern Oregon
By Craig Murphy
(Photo Courtesy of SC Images)
WHITE CITY, Ore. – Central Point's Jake Wheeler continued his hot streak at Southern Oregon Speedway last Saturday, August 28.
Wheeler claimed the victory in World Famous Auto Sprints during the Sherwin Williams Night at the Races. Also taking wins at the 3/8-mile dirt oval were Preston Luckman of Coos Bay in the CD Architects Late Models, Steve Borror of Klamath Falls in Outlaw Pro Stocks, and Talent's David Steele in Mini Stocks.
Medford's Enrique Jaime set fast time in Limited Sprints with a lap of 13.777 seconds. Heat races were won by Jaime and Wheeler, with Wheeler claiming the four-lap dash. In the 25-lap main event, Edrel Jaime started up front but at the end it was Wheeler once again standing in victory lane. In his last four races at SOS, Wheeler has a runner-up finish and now three straight wins. Rounding out the top five were RJ McGahney of Grants Pass, Roseburg's Patrick Desbiens, and Medford drivers Charlie Thompson and Edrel Jaime.
In the CD Architects Late Models, Luckman easily set fast time with a lap of 15.53 seconds, nearly a full half-second ahead of second place. Bend's Darren Coffell won both the heat race and the dash. Bob Dees started the 40-lap feature on the pole, but in the end it was Luckman taking the checkered flag. Rounding out the top five were Medford's Rich McCoy, Coffell, Dees and Medford's John Duffie.
It was Luckman's second race of the year at SOS, having finished second on July 3. He has notched two wins this year at Cottage Grove Speedway, and four runner-up finishes at Coos Bay Speedway.
In Outlaw Pro Stocks, Borror took top honors in qualifying with a lap of 16.701 seconds. Heat races were won by Borror, Johnny Cobb and Corey Biggs. Borror won the dash and started the 20-lap main event in eighth, with Keno's Rick Lukens on pole. Borror made it a clean sweep by winning over fellow Klamath Falls driver Scott Flowers, Bonanza's Colby Hammond, James Flowers of Klamath Falls and Midland's Cobb.
The win was Borror's third of the year at SOS. He also posted a victory at Coos Bay in July.
Steele set fast time in Mini Stock qualifying with a lap of 17.613 seconds. Heat races were won by White City's Ashtin Hedges and Medford's Kristopher Mix. Hedges took the dash, while Dylan Irving led the field to start the 20-lap main. Steele started fourth on his way to victory over Hunter Magnan of Klamath Falls, Hedges, Mix and Klamath Falls driver Quintyn Ericks.
Across eight events at three different tracks in 2021, Steele has posted six wins and two seconds. Last weekend's win was his second of the year at SOS.
Next up at Southern Oregon Speedway is the track's biggest event of the year, the two-day R Charles Snyder Salute on Friday, September 3 and Saturday, September 4. Saturday's main event winner takes home $7,007. On the docket for Friday's Sweet Tea Express Night are the Sweet Tea IMCA Modifieds, the Dusty's Transmission IMCA Sport Modifieds, and the World Famous Auto Limited Sprints.
Friday's main Modified event will be 25 laps, with the top-10 finishers locked into Saturday's feature. The purse for winning on Friday is $1,000.
On Saturday, the two classes of Modifieds will be joined by the CD Architects Late Models. The winner of Saturday's 40-lap feature banks the $7,007 top prize.
Tickets for Friday are $10 for seniors and children, $15 for adults. Pits open at 3 p.m., with front gates opening at 5, hot laps at 6 and racing at 7. For Saturday, tickets are $15 for seniors and children, $20 for adults. The starting times are the same, with the exception of the pits opening at 3:30 p.m. For more information, or to purchase tickets in advance online, visit www.southernoregonmotorsports.com.
---
Submitted By: Ben Deatherage
Article Media
Back to News