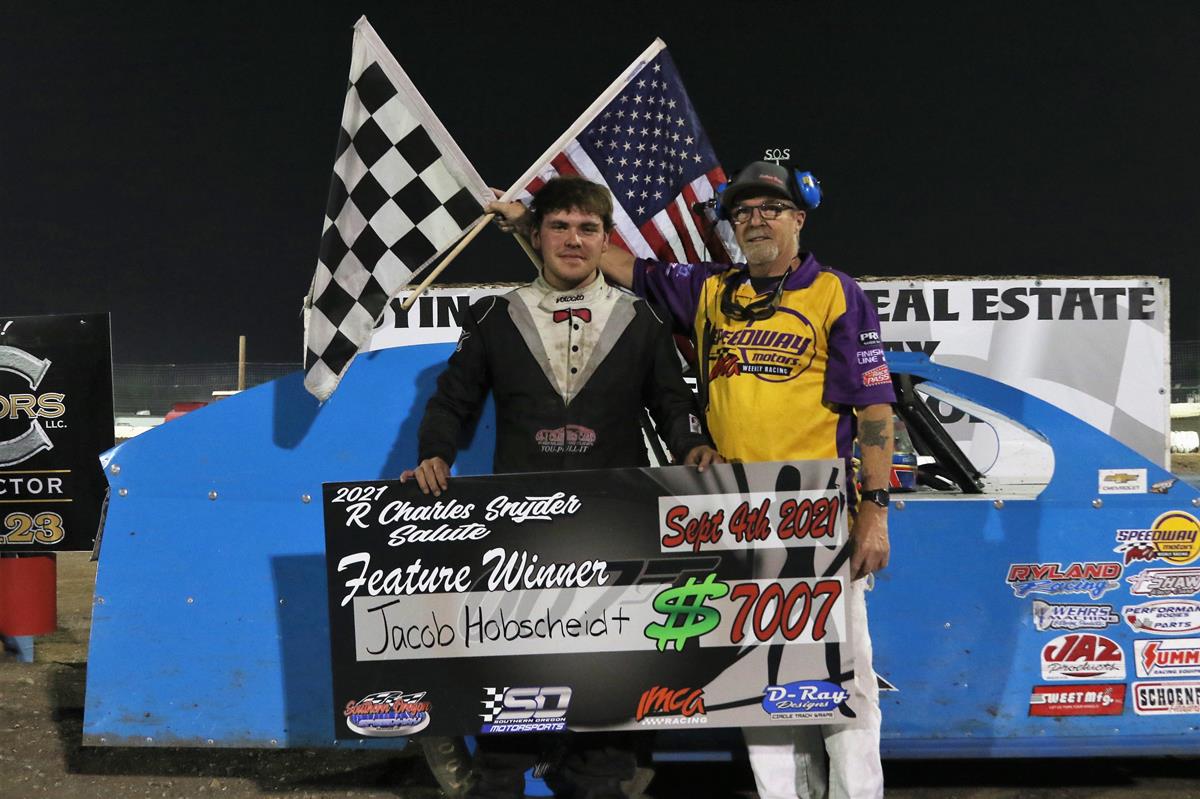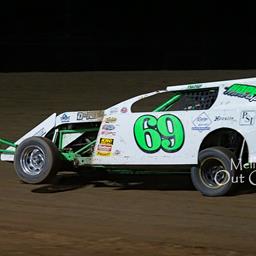 9/6/2021
Southern Oregon Speedway
---
Hobscheidt claims R. Snyder Salute at SOS
Hobscheidt claims R. Snyder Salute at SOS
(Photo Courtesy of Shadows of Light Photography)
WHITE CITY, Ore. – Jacob Hobscheidt was a long way from home this weekend, and had a race in his home state to compete in Sunday.
But the Plattsmouth, Nebraska hotshoe made his long trek to Southern Oregon Speedway well worth it, as he won Saturday night's R. Snyder Salute at the 3/8-mile dirt oval. Hobscheidt took home $7,007 for winning the 40-lap Sweet Tea IMCA Modified race.
In the undercard events, Medford's Jordan Braaten won the Dusty's Transmission IMCA Sport Modified event, while Medford's Rich McCoy took the CD Architects Late Model main event.
The Sweet Tea IMCA Modifieds did not qualify on Saturday, with the top-10 finishers in Friday's preliminary night feature locked into Saturday's A-main. Saturday's format included six 10-lap heats, with the winner of each transferring to the feature. The heats were won by Chance Hyser, Steve Pemberton, Jeffrey Hudson, Matt Duste, Mark Wauge and Rob Sanders. Twin 20-lap last chance qualifiers were also held, with the top two in both transferring to the feature. Those drivers were Zach Fettinger, John Campos, Chris Nieman and Jon DeBenedetti.
Friday's top-10 finishers drew for starting spots for Saturday's main event, with Jesse Bailey drawing pole. Hobscheidt lined up fifth, but picked up the victory by 1.724 seconds over Troy Foulger, Bricen James, Jesse Williamson and Collen Winebarger. Wauge gained the most positions to go from 15th to sixth at the end, with Darrell Hughes, Sanders, Fettinger and Bailey rounding out the top 10.
In Dusty's Transmission IMCA Sport Modifieds, Chico's Tyler Rodgers set fast time with a lap of 16.323 seconds. Heat races were won by Rodgers, Braaten and Ryan Peery. Bratten led the field to the green for the 25-lap main event and went on to take the $1,007 top prize over Matt Sanders, Dustin Comer, Peery and Isaac Sanders.
In CD Architects Late Models, Bob Dees was the fastest qualifier with a lap of 15.801 seconds. The heat race was won by McCoy, who won the 15-lap main event from the pole.
Next Saturday, September 11 is the first of two 2021 championship nights at Southern Oregon Speedway, at the Massey Construction Night at the Races. In action will be World Famous Autos Limited Sprints, Super 4's, Mini Stocks, CD Architects Late Models and the Rapp Racing Late Mod 4's. For information, or to purchase tickets in advance online, visit www.southernoregonmotorsports.com.
---
Submitted By: Ben Deatherage
Article Media
Back to News