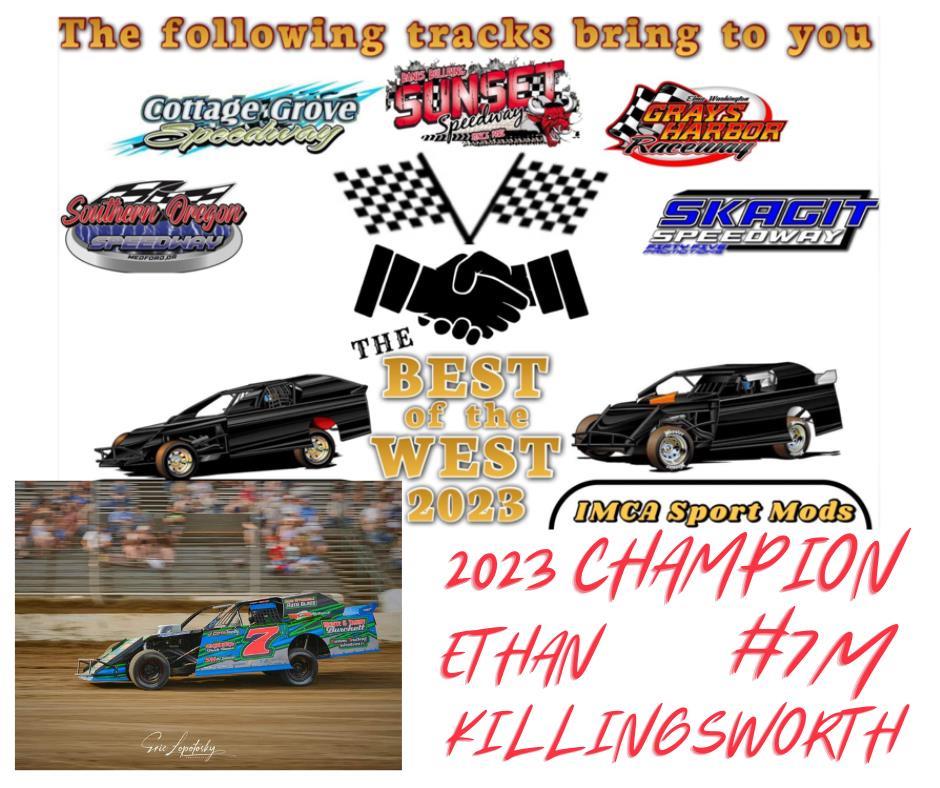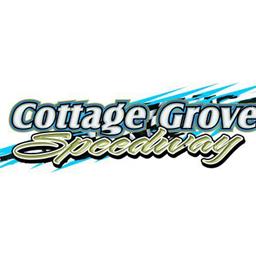 7/30/2023
Cottage Grove Speedway
---
ETHAN KILLINGSWORTH BECOMES FIRST EVER IMCA SPORTMOD BEST OF THE WEST!!
Congratulations to the Best of the West in Sportmods, Ethat Killingswoth!!
As well as Trevor Points in 2nd, Landyn Philpott in 3rd and Madilynn Ashley in 6th for making all of the races! We will post payout information soon!!
Thank all of you that supported these shows, 72 total Sportmods!! WOW!!!
Best of the West!!
IMCA Sportmods
Place Car # Name 7/7 7/8 7/14 7/15 7/22 7/28 7/29 Total
1 7M Ethan Killingsworth 32 37 39 40 38 27 38 251
2 11 Trevor Points 33 32 40 39 39 30 28 241
3 21P Landyn Philpott 11 16 34 36 33 35 24 189
4 2M Matt Sanders 38 33 40 38 39 188
5 60J Jordan Henry 37 32 37 34 36 176
6 19A Madilyn Ashley 11 14 32 34 32 23 23 169
7 W7 Kevin Williamson 40 35 36 37 15 163
8 16P Nick Trenchard 27 38 39 40 144
9 10 Brayden Brookshire 38 38 35 111
10 7S Steven Sanders 25 20 33 31 109
11 2G Kody Greer 33 33 36 102
12 333 Aaron Bloom 16 15 36 35 102
13 3 Garrett Craig 20 13 32 34 99
14 21JRVinny DeBenedetti 13 14 35 35 97
15 69 Kasi Comer 16 11 31 27 85
16 MM5Matt Ruf 24 11 16 30 81
17 33B Hunter Bloom 11 13 25 32 81
18 84 Jorddon Braaten 39 39 78
19 43 Justin Ryker 40 37 77
20 OO Colby Fett 35 40 75
21 95 Rich McCoy 13 16 24 22 75
22 68T Daniel Taylor 15 14 15 25 69
23 38 KC Keller 37 31 68
24 7J Fred Ryland 31 36 67
25 73 Jacob Shandy 11 12 29 14 66
26 P11 Austin Petray 11 12 13 29 65
27 188 Ken Shrader 37 26 63
28 37M Derek Murphy 26 34 60
29 111 Cole Olexiewicz 36 22 58
30 17M Merissa Henson 30 27 57
31 28K Chester Kniss 34 21 55
32 45 Colton Chew 28 26 54
33 O1 Daniel Ray 21 33 54
34 44 Tyler Rodgers 21 30 51
35 9 David Schmidt 28 21 49
36 19 Trevor Tiffee 23 25 48
37 46N Jonathon Hagio 29 19 48
38 12 Jimmy Ford 14 29 43
39 12W Branden Wilson 13 28 41
40 30M Mike Medel 16 23 39
41 22 Ray Comer 26 13 39
42 12i Isaac Sanders 11 24 35
43 8 Tanner Krohling 34 34
44 7TG Joe Doceka 22 11 33
45 184 Riley Jeppesen 15 16 31
46 61 Dean Prather 31 31
47 27S Sean Hulsey 15 15 30
48 Randy Dias 30 30
49 9T Nate Turnidge 14 15 29
50 71 Mitchell Jamieson 12 16 28
51 51 Conner Franklin 12 15 27
52 99 Dustin Hitner 16 11 27
53 7Z Craig Nieman 14 12 26
54 04M Austin Manzella 11 15 26
55 12 Jeff Titus 14 12 26
56 91 Shannon Barton 14 11 25
57 SL08Ryder Boswell 12 13 25
58 8A Varon Allen 11 14 25
59 63 Buddy Olschowka 11 13 24
60 21W John Wilson 12 12 24
61 79 Brandon Norton 13 11 24
62 28L Steven Lysinger 11 11 22
63 58M Mike Merritt 11 11 22
64 67G Tyler David Williams11 11 22
65 71 Dallin Dagata 11 11 22
66 7SEVEN Jantzen Knipps11 11 22
67 24J Mike Jones 11 11 22
68 w4 Ron Wilson 22 22
69 43s Sandy Sanders 12 12
70 555 Joby Shields 11 11
71 21 Evan Scroggins 11 11
72 42 Chuck Carson 11 11
---
Submitted By: Heather Boyce
Back to News